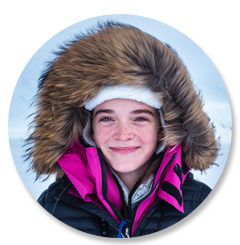 ABOUT JADE
Jade is a 16 year old student from Melbourne, Australia who loves being active and outdoors.
At age 12, Jade completed the trek to Everest Base Camp and was inspired by the courage of two women she befriended on that trip – one who had previously skied to the South Pole solo and the other who had been the first woman to summit Everest without supplemental oxygen.
This inspiration led Jade to undertake her own quest…Jade's Polar Quest.
In April 2016, Jade became the youngest person in history to ski to the North Pole from anywhere outside the Last Degree. That year she was recognised by Australian Geographic Society as Young Adventurer of the Year.
Her journey was captured in a National Geographic documentary that aired in 170 countries.
She delivered a TEDx Talk in August 2016 and in early 2017 presented to a combined live audience of over 12,000 students at ImagiNATION in Melbourne, Sydney and Brisbane.
In June 2017, Jade made history again by completing the 550km traverse of the Greenland icecap unsupported and unassisted – the youngest woman ever to do so.
Her expedition was captured as part of a National Geographic feature length documentary which will document both her Greenland and her upcoming South Pole expedition. The film is due for release mid-2018.
Jade is passionate about shifting the focus for young women from how they appear to the possibilities of what they can do and also about raising awareness about the impact of climate change on the Earth's beautiful and fragile polar regions.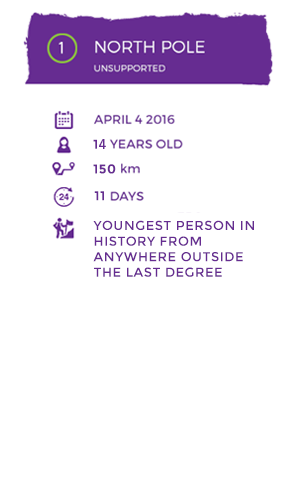 In April 2016, Jade (aged 14) travelled 150km from 88 degrees 40 over the drifting polar sea ice to arrive at the North Pole to become the youngest person (male or female) in history to ski to the North Pole from anywhere outside 89 degrees. It was also the longest journey to the North Pole by any woman on the planet in the last 2 years.
Global warming has impacted drifting sea ice in the Arctic Ocean such that this was the longest route possible with air support if something went wrong. Any longer route cannot be guaranteed and the former longer route from Canada is now almost impossible to make and it is understood that only one expedition has done so in the last decade.
Each day, Jade skied with her 50kg sled for 8-10 hours navigating around open "leads" of water or climbing over "pressure ridges" in the ice (massive walls of ice chunks where large sheets of ice being moved by water currents have collided). The travel was complicated and the days were physical and arduous.
After establishing camp each night, the expedition found, on waking the next morning, that they had drifted off course on a strong easterly ocean current ("negative drift").
Temperatures were as low as -40C and Jade faced other risks such as falling through thin ice into the freezing Arctic waters and polar bears (thankfully she only found tracks in the ice!).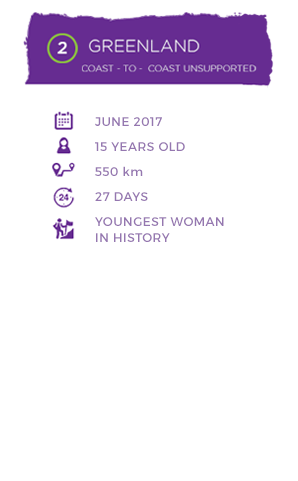 In May 2017, Jade (aged 15) became the youngest woman in history to complete the unsupported an unassisted 550km crossing of the Greenland icecap, on crampons and skis dragging a sled weighing over 80kg.
First completed by the celebrated Arctic adventurer Fritjof Nansen in 1888, this expedition is an adventure of the highest degree. Less people have completed this journey than have summited Mt Everest.
Following the line of the Arctic Circle, Jade started her journey in Kangerlussuaq on the West Coast of Greenland. She then skied across the magical expanse of the Greenland ice cap to finish her expedition on the East Coast at Isortoq Hut on June 4th 2017.
For 27 days, with a heavy sled, Jade spent an average of 9 hours each day on the move, with daily distances around 25km once a routine was established. Temperatures dropped to minus 20 degrees at night and reaching a highpoint on the icecap of around 2,850m before descending to the East coast.
This remote area of the planet experiences extreme weather , in particular the Piteraq (and Inuit word for "ambush") – katabatic winds that can reach well over 200kmph that form as high density air is dragged down a slope from higher elevation under the force of gravity. Jade suffered minor frost nip on her left cheek following a few days of strong cold winds.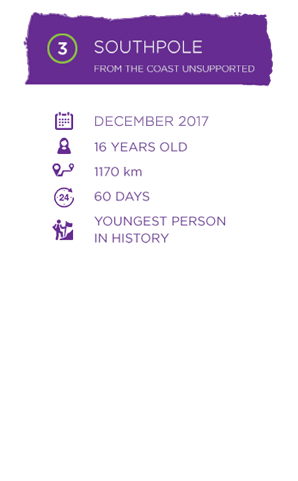 Skiing all the way to South Pole is the ultimate challenge, a journey that spans an entire Antarctic season, beginning some time in late November 2017.
The traditional route traverses 1170 km (730 miles) from Hercules Inlet, on the edge of the frozen Antarctic continent, to the Geographic South Pole.
Jade and her team intend to attempt a new and untested route to the Pole that has only been observed from the air. Preliminary approvals for an attempt on this new route have been received and final approvals are pending.
Jade (aged 16) will travel unsupported and unassisted, by ski hauling her gear and supplies, climbing gradually to more than 2,800m (physiological altitude is closer to 3,350m (11,000ft) due to the unique atmospheric environment in Antarctica) as she makes her way south over the ice cap's mountain passes and wind blown snow ridges.
Jade's days will be filled with 24-hour daylight and an intense solitude; no plant or animal life is seen this far south, just snow, ice, rock and sky.
Jade's trip will take around 45-60 days depending on weather, snow conditions and group strength.
During the expedition Jade will ski for 8-12 hours a day in all types of weather and in challenging terrain, hauling a sled well in excess of her own body weight (there will be no resupplies by air and hence the unassisted status of her expedition), with days of ferocious winds and white out conditions, with the threat of crevasse falls.
Jade's journey across Greenland and to the South Pole will be captured in a feature length National Geographic documentary.
MORE QUEST DETAILS
#expandpossible
Instead of focussing on how young women look, Jade wants to shift the focus to what our bodies and minds can do and discover the incredible possibilities that we are capable of contributing to this world.
#bravenotperfect
Jade wants to encourage young people to choose bravery over perfection. Seeking perfection makes us fearful of making mistakes or looking silly. It places limits on us and instead we tend to play it safe, or worse… we don't even try. Courage acknowledges that we are imperfect and that we will make mistakes, but we try anyway.
#climatechange
Jade has fallen in love with Earth's beautiful polar regions. As a representative of her generation that will inherit the consequences of climate change, with unique first hand experience in these most fragile parts of our planet, she feels a responsibility to learn as much as she can about global warming and to play a much more active role in this area in years to come.
JADE'S TEAM
Each of the three journeys will have three core team members:

JADE HAMEISTER
Jade is a year 10 student in Melbourne. She has no idea what she wants to do when she finishes school, but she loves family, friends keeping fit, travel and adventure, the beach, sunsets, playing with her dog (Ava) and caramel slice.

ERIC Philips OAM
Eric is the Tasmania-based owner of Icetrek (the organiser of Jade's expeditions). He was the first Australian, together with Jon Muir, to ski to both the North and South Poles, is President of the International Polar Guides Association, an IPGA Master Polar Guide and has 25+ years experience as an outdoor educator and polar adventurer and guide. Eric was awarded the 2015 Lifetime Achievement Award by Australian Geographic Society.

PAUL HAMEISTER
Jade's father. A Melbourne-based business owner, Paul is the 12th Australian to climb the Seven Summits, including Mount Everest, which he summited in 2011. Jade has taught him that when your child expresses a dream you should always take them seriously and young people should never be underestimated.
The National Geographic camera team will change for each expedition, as follows:

Petter Nyquist North Pole – Director of Photography
Petter is a cinematographer, photographer, director and adventurer based in Norway. In 2015 he won the People's Choice Golden Screen Award in Norway for his documentary where he lived for 8 weeks as a homeless person. He has undertaken extensive adventure travel, including North Pole nine times, South Pole four times and Everest summit in 2009.

Dr Frederique Olivier Greenland – Director of Photography
Fred is a Cinematographer, photographer, director and adventurer. French born, she is now based in Tasmania. A former scientific diver with the Australian Institute of Marine Science, she has spent 15 seasons in Antarctica and the subantarctic, including two year-long overwinter expeditions. Fred has undertaken extensive cinematography work in Antarctica, including for BBC and Disney.

Heath Jamieson
Greenland &
South Pole DoP Assistant
Heath is a former Australian Army Commando injured during his third tour of Afghanistan with a gunshot wound through his neck that left him barely able to walk. Based in Sydney., Heath was awarded 2014 Spirit of Adventure Award by Australian Geographic Society when he accompanied Eric Philips and Prince Harry on their 335km trek to the South Pole as part of Walking With the Wounded charity.

Ming D'Arcy
South Pole –
Director of Photography
Ming is a cinematographer, producer and director with a passion for challenging film conditions. Based in Sydney, he has travelled the world leading and directing teams across the globe to create compelling TVC, documentary and digital content. He has worked with National Geographic in the past and operated in both polar and jungle environments.
Current Featured Video
The National Geographic documentary on Jade's North Pole expedition aired globally in 170 countries in late 2016 as part of a series on inspiring young women.
You can follow Jade's progress on her Greenland expedition on this map in May 2017.
CONTACT
Jade and her Management Team would like to thank you for your ongoing support.
Unfortunately Jade cannot respond to your questions about her expeditions directly, due to her training and school commitments.
In the News page of this website you will find lots more detail on Jade's polar experiences.
For any general or commercial enquires, please contact us and we will respond as soon as possible.
SUPPORTERS AND PARTNERS