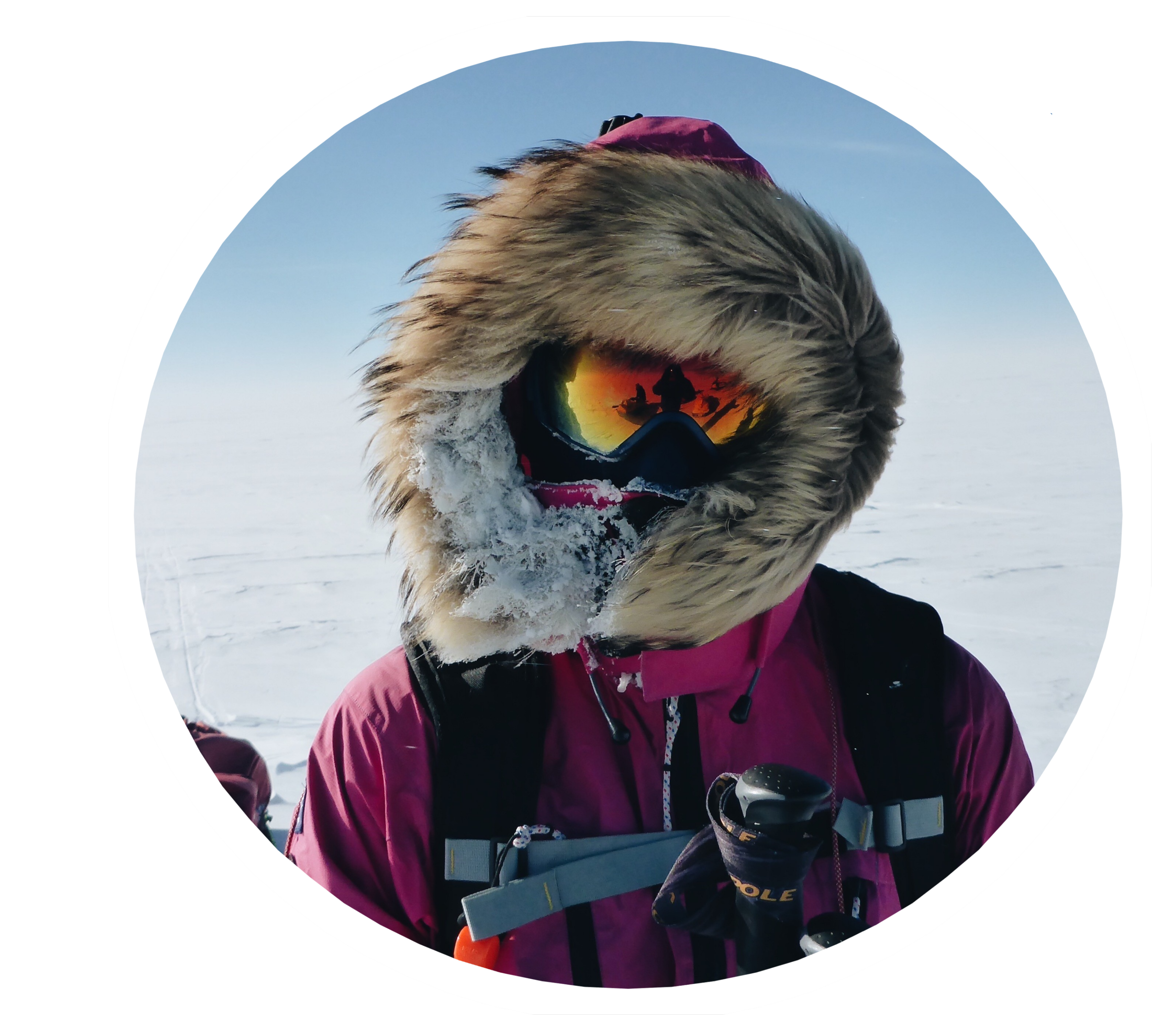 ABOUT JADE
Jade is a 21 year old student from Melbourne Australia.
At age 12, Jade completed the trek to Everest Base Camp and was inspired by two women she befriended on that trip - one who had previously skied to the South Pole solo and the other who had been the first woman to summit to Everest without supplemental oxygen.
This inspiration led Jade to undertake her own quest.
In April 2016, Jade became the youngest person in history to ski to the North Pole from anywhere outside the Last Degree. That year she was recognised by Australian Geographic Society as Young Adventurer of the Year. 
Her journey was captured in a National Geographic documentary that aired in 170 countries.
She delivered a TEDx Talk in August 2016 and in early 2017 presented to a combined live audience of over 12,000 students at ImagiNATION in Melbourne, Sydney and Brisbane.
In June 2017, Jade made history again by completing the 550km traverse of the Greenland ice sheet unsupported and unassisted - the youngest ever to do so.
In January 2018, Jade completed her polar quest by skiing 600km from the coast of Antarctica to the South Pole unsupported and unassisted, a 37-day journey via a new route through the Transantarctic Mountains, from the Amundsen Coast. 
In finishing this journey, Jade set a number of world records including: the youngest person to ski from the coast of Antarctica to the South Pole unsupported and unassisted; the first Australian women to do so; among the first women to set a new route to the South Pole unsupported and unassisted; the youngest person to do both Poles; and the youngest to complete the Polar Hat-Trick (North & South Poles and Greenland).
Her expeditions were captured as part of a National Geographic feature length documentary, released in mid-2018.
In the 2019 Queen's Birthday Honours, Jade was awarded an Order of Australia Medal for service to Polar Exploration.
Jade is passionate about shifting the focus of young people from how they appear to the possibilities of what they can do and raising awareness about the impact of climate change on the Earth's beautiful and fragile polar regions.
MORE QUEST DETAILS
JADE'S TEAM
Each of the three journeys will have three core team members:

JADE HAMEISTER OAM
Jade is a university student from Melbourne, Australia. She is currently studying a Bachelor of Commerce. While her current focus is her studies, she continues to advocate for issues which she cares deeply about, such as global warming and gender equality. She is passionate about exploring the planet more in the future.

Eric Philips OAM
Eric is the Tasmania-based owner of Icetrek (the organiser of Jade's expeditions). He was the first Australian, together with Jon Muir, to ski to both the North and South Poles, is President of the International Polar Guides Association, an IPGA Master Polar Guide and has 25+ years experience as an outdoor educator and polar adventurer and guide. Eric was awarded the 2015 Lifetime Achievement Award by Australian Geographic Society.

Paul Hameister OAM
Jade's father. A Melbourne-based business owner, Paul is the 12th Australian to climb the Seven Summits, including Mount Everest, which he summited in 2011. Jade has taught him that when your child expresses a dream you should always take them seriously and young people should never be underestimated.
The National Geographic camera team will change for each expedition, as follows:

Petter Nyquist North Pole – Director of Photography
Petter is a cinematographer, photographer, director and adventurer based in Norway. In 2015 he won the People's Choice Golden Screen Award in Norway for his documentary where he lived for 8 weeks as a homeless person. He has undertaken extensive adventure travel, including North Pole nine times, South Pole four times and Everest summit in 2009.

Dr Frederique Olivier Greenland – Director of Photography
Fred is a Cinematographer, photographer, director and adventurer. French born, she is now based in Tasmania. A former scientific diver with the Australian Institute of Marine Science, she has spent 15 seasons in Antarctica and the subantarctic, including two year-long overwinter expeditions. Fred has undertaken extensive cinematography work in Antarctica, including for BBC and Disney.

Heath Jamieson
Greenland &
South Pole DoP Assistant
Heath is a former Australian Army Commando injured during his third tour of Afghanistan with a gunshot wound through his neck that left him barely able to walk. Based in Sydney, Heath was awarded 2014 Spirit of Adventure Award by Australian Geographic Society when he accompanied Eric Philips and Prince Harry on their 335km trek to the South Pole as part of Walking With the Wounded charity.

Ming D'Arcy
South Pole –
Director of Photography
Ming is a cinematographer, producer and director with a passion for challenging film conditions. Based in Sydney, he has travelled the world leading and directing teams across the globe to create compelling TVC, documentary and digital content. He has worked with National Geographic in the past and operated in both polar and jungle environments.
Current Featured Video
The National Geographic documentary on Jade's North Pole expedition aired globally in 170 countries in late 2016 as part of a series on inspiring young women.
You can follow Jade's progress on her Greenland expedition on this map in May 2017.
CONTACT
Jade and her Management Team would like to thank you for your ongoing support.
For any general or commercial enquires, please contact us and we will respond as soon as possible.